Sycamore Class – Years 3 & 4
We are Sycamore Class! We are Year 3 and 4 children and here on our page you can have a little peek at the brilliant things we get up to. We strive to be inspiring, exemplary learners and caring members of our school and local community. Happy browsing and we hope that you feel as proud in our learning as we do.
About us!
This is the web page for Sycamore Class and we are a mixed age class of years 3 and 4. We are part of a wonderful class family that includes Miss Merry, our Teaching Assistant, who is with us every morning. On Mondays and Tuesdays we are taught by Mrs Michaelson- Yeates and on Wednesdays, Thursday and Fridays we are taught by Mrs. Warren.  Also, we are very lucky to have Mr. Lucy on board to deliver us high-quality and fun PE/swimming lessons every Friday. The adults in Sycamore work very closely together to ensure that all learning and transitions are seamless. We try our very best in all aspects of our learning, show care and compassion for each other and take pride in our class family.
Term 2!
What will our learning look like this term?
Bang! Crackle! Sizzle! Firework poetry has kicked off our English learning this term and during this unit we have been using figurative language such as onomatopoeia, similes and metpahors.
Our Write Stuff focus in Term 2 is The Iron Man by Ted Hughes.  During this unit we will explore many different writing techniques and work on writing effective sentences that lead up to writing our own narrative.
Our non-fiction focus will be based around non-chronological reports and for this we will be using Alan Snow's 'How Santa Really Works' book. Beneath the Arctic Polar Ice Cap, deep underground, is a bustling community with one mission and one mission only: to make Christmas happen… How exciting!
Afternoon Learning
Our History topic of Stone Age to Iron Age, continues this term. We will be travelling back in time to around 2.6 million years ago, when researchers found the earliest evidence of humans using stone tools. We will investigate how people lived and how their lives changed as time progressed and their environments changed. After learning about the Stone Age and its three periods, we will then explore the Bronze and Iron Ages. During this time we will learn about specific settlements such as Stonehenge and Skara Brae, while comparing the three periods in our history.
Science is all about Light this term. How is it reflected from surfaces? How are shadows formed? What does opaque mean?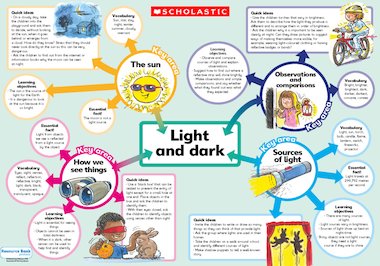 In DT the children will plan and make party hats and this term we begin our French learning. For this we will use La Jolie Ronde and will begin by learning the numbers up to ten. Want to try it out? Try the link below:
https://www.youtube.com/watch?v=woqBQG7LG8s
RE will be focused around Christianity and we will explore the concept of Incarnation. During this unit we will explore our Christian Value of respect, think about God and the Trinity, the meaning of incarnation and discuss the Old Testament.
Computing will focus on internet safety and using online spreadsheets.
Helping your child with reading
Reading isn't really just one skill- it's a whole collection of skills- that children must learn to become fluent and independent readers. When hearing your child read at home it is important that you share books together and talk about what they might be about, by looking at the front cover and illustrations. As well as asking their opinion of the story. These conversations help to give them a sense of what is inside the book before they start to read it and preparing them for some of the vocabulary they come across. This means you are setting your child up for success right from the start.
Identifying vocabulary your child does not know is essential to help them become fluent readers. If there are more than five words on a page, or in a passage, that your child is unable to identify they will not be able to comprehend the text. This means that the text is too difficult for them. Therefore, it is important to consider the vocabulary in a book and have discussions around this. Encourage your child to be independent by looking up the word in a dictionary, discuss what specific words mean, and relate them to real-life to build an understanding for your child. Thus, helping them to comprehend the text.
Model reading with your child or taking turns to read is great to build up confidence. For example, modelling a sentence that they may have misread is a good way to support this, and then ask your child to reread the passage ensuring they address what they have learnt.
Additionally, it is important that they read the punctuation, pausing where appropriate and adding expression. If your child has enjoyed a book, encourage them to recall what has happened so far, can they remember the key events. This helps showcase their understanding of what has been read.
Lastly, praise is crucial to foster a love of reading. Notice what your child has done well and tell them, often.
Please see below for a helpful video which shows Mrs. Warren reading with a child.
Useful Links
These are recommended, high quality learning resources which we will use in school, but will also be very useful at home -particularly if Seesaw has failed and you need immediate access to further learning. (Do get in touch for a quick fix though if SeeSaw has failed. Often a new code reset will fix any issue.)